Welcome to Rappahannock County Elementary School!

Principal: Mrs. Lisa Gates
Assistant Principal: Mrs. Jennifer Wissinger

Our School Hours:
8:20-3:15 For Students

Office Hours:
8:00-4:30 Monday-Friday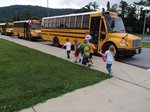 Vision:

To empower every student to reach his or her full potential.
Mission:
Through educational opportunities, the mission for RCPS will be to promote a culture of learning, a roadmap for excellence, and the passion and character that leads to each student's success.
Accreditation Status: Accredited

School Colors: Blue and Gold

Mascot: Panther

Phone Numbers: 540-227-0200; for attendance calls use extension 3007

FAX Number- 540-987-1130

Rappahannock County Elementary School houses Pre-K through 7th Grades.